Animus Home
Animus Heart
SKU: AHG1
This product is out of stock.
Product description
Specifications
Product description
Animus Heart - A smart home with freedom
Animus Heart is a Swedish innovation that brings together your different smart home products to one system only. The design features Scandinavian simplicity and functionality from the physical product to user interfaces.
A smart home even without internet
From the ground up Animus Heart is built for stability. It works also with lost internet connection and without requiring cloud connection. Your data stays at home.
Plays well with Animus Heart
The controller plays really well with many smart home products. All supported products are already in your Animus Heart, no other plug-ins required. We continuously integrate new products and keep current integrations updated.
You can see the list of compatible products here:
https://www.animushome.com/en/partners
.
Automate your home
You can automate almost any of your daily routines in only three steps. Turn off the lights when you go to bed and set the alarm on when you go to work. Have e-mails sent to you with camera snapshots or sensor data. Automate with triggers such as event, schedule, sunset/sunrise and more.
Stay in control
Animus Heart allows you to control your home your way. You are in full control from the smartphone in your pocket or from the web browser on your computer at work.
IP cameras
Animus Heart built-in solution unlocks support to thousands of IP-cameras. Watch the camera stream directly on the app or receive an e-mail with a snapshot image in case of intrusion.
Voice control
Control your smart home with the voice. Choose from the best voice assistants on the market: Amazon Alexa or Google Assistant.
Supports
* Z-Wave Plus with latest S2 security
* Wifi
*Ethernet
* Zigbee smart lights (support for Philips Hue, IKEA and Innr lamps. Currently supported only in combination with Hue-Bridge.)
* 433 MHz (Nexa, Telldus, Luxorparts and more)
* Bluetooth (activated shortly)
* USB-connection
* E-mail feature
*Homekit

Beats with Power
Animus Heart runs on a powerful 1.2 GHz Quad Core ARM processor with 1 GB of RAM and 16 GB of storage. This power makes it possible for the Animus Heart to run heavy applications and manage your whole smart home.
Animus Home and the philosophy
Animus ['æ.n?.m?s] is derived from the latin word for soul and mind. In psychology it is described as the human subconscious where decisions are made and then translated to visible and sensible events and reactions. The philosophy of Animus Home is built upon this. One main system, a heart, to connect all parts of your smart home and give you value from its reactions. Experience the interactions from light, sound, movement and image. Simply, a well balanced orchestra for your home.
Specifications
Dimensions: 120 × 120 × 30 mm
Works on platforms: iOS, Android, and Web
Compatible with: Z-Wave Plus with S2 security, Wi-Fi (2.4GHz 802.11n), 433 MHz (Transmitter + Receiver), Bluetooth technology (v 4.1), 10/100 Ethernet, Zigbee, Homekit
Processor: 1.2GHz, four-core ARM processor
Ports: 2 USB ports 1 LAN port 1 2.1mm DC output
Memory: 1 GB of RAM, 16 GB of storage
Voice control: Yes, via Alexa or Google Assistant
Other features: Run locally, remote access, custom automations, scheduling events, LED indicator.
Monthly Fees: No Monthly Fees
Platform: Heart Center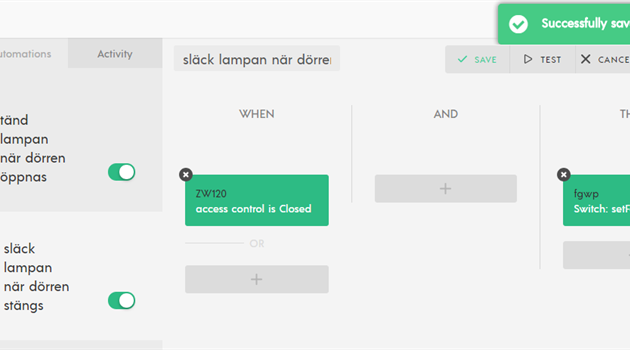 Skapa en enkel scen på Animus Heart
Så här skapas en enkel scen på Animus Heart