Telldus
Telldus Tellstick Znet Lite v2
SKU: 312692
This new version of TellStick Z-Net Lite combines the best of two worlds. Full support for both Z-Wave and 433MHz.
Product description
Specifications
Product description
This gateway combines the best of two worlds to a full extent. It has two-way communication on Z-Wave, which provides high reliability and long range. It also transmit and receive signals at 433MHz, which provides wide compatibility with your existing receivers and sensors.
All configuration for the gateway is made in our cloud service, Telldus Live!. You can create schedules for fixed times or depending on the sun's movements. By allowing incoming signals to create events, you can control and automate your smart home for real. The additional service Telldus Live! Pro gives you even more features, such as the ability to receive email and SMS when things happen in your system. Read more about Telldus Live! Pro
here
.
Schedules and Event runs locally on TellStick ZNet Lite v2 even though the Internet is not available. The smartphone app Telldus Live! Mobile makes it possible to use your phone as a remote control for the devices in your home, no matter where in the world you are.
Specifications
Range: 30 meters
Frequency: 868.42MHz (EU) (transmit & receive) + 433.92MHz (transmit & receive)
Z-Wave chip: 500 Plus
Power supply: 5V DC / 1A (adapter included)
Necessary cables included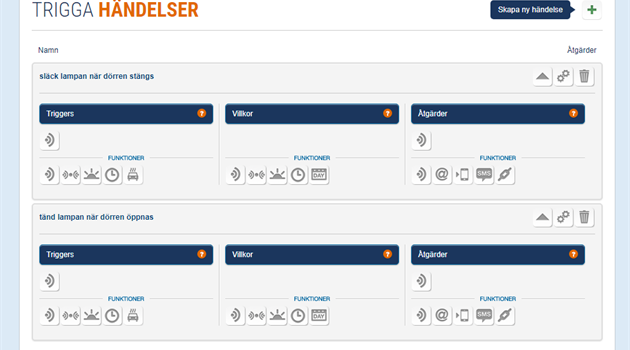 Skapa en enkel scen på Telldus Tellstick Znet lite V2
Så här skapas en enkel scen på Telldus Tellstick Znet lite V2